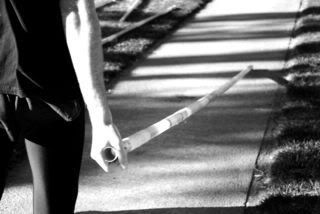 hooray! got back today, and it was grrreat! i miss running so hard that it's hard to keep your legs from crumbling under you. (and i didnt run THAT much)
we did pole runs and i did 3 bearcrawls because andrea says i'm muscular enough to. She just made me equivalent to a guy. fantastic.
tomorrow we vault! (hopefully) brad said it will be hard for him.
i really respect that guy. he's an honest guy and a great coach. Even with schooling and all that conflict, he still tries his best to come to our practices so we can get vaulting and training in.
anyway, i am READY for a season of going home after dark and training hard as hell, getting frustrated as hell, and competing like hell. and i can't wait to pray before that big meet on the runway before i vault. mmm the sweet smell of beauty.
:]